--
Branding Identity for
WORTHLESSSTUDIOS
.
Working together with Neil Hamamoto, the founder and artistic director, I set out from the brief to create an identity for which design became less — or perhaps more aptly — in order to maintain focus on the artists and/or programs (such as
Free Film)
themselves. Take up less space while creating space(s) for others. Throughout the process, the literal meaning of "worthless" naturally became somewhat of a driving mechanism.
By removing the space between words, we felt it represented a stronger sense of community and coming together which unfolds differently in the various treatments. It also presents the opportunity for an unconvential, yet memorable usage of three S's. The version where "LESSS" is upside down is typically used in more informal, internal, or brand adjacent circumstances though it also represents the shorthand by which the non-profit is often referred to: "WORTHLESS", the third "S" representing Studios. Switching to all caps from the prior lowercase wordmark was also crucial to the success of this development.
The conscious choice to employ a monospaced typeface allowed us to embrace and utilize it's limitations in order to build out a system in which it largely dictates the parameters of design, along with the grid. The logo would take no visual favor over the content itself, which created intentionality for less "design" or flourish. The wordmark remains flexible and spatially responsive depending on the application or context. Customized versions of Spezia Mono (typeface) were created for standalone or third-party applications with customized characters for each. It may also often be typeset in an effort to adapt or exist alongside additional design components.
The first substantial implementation of branding, in addition to the logo development, was via the
Free Film
books. By referencing the 35mm film motif, the hope was to allow the system to become more conceptually expressive via graphic subtlety and use of color.
Free Film: NYC
is the latest ongoing iteration of this project.
As the brand continues to grow alongside the non-profit and it's future projects, the logo and branding will continuously adapt. The ultimate hope is to provide a system, platform, and visibility for WORTHLESSSTUDIOS itself, yet to allow for space and malleability of the overall brand and it's growing community.
Website redesign to come.
--
Mission Statement:
WORTHLESSSTUDIOS provides space, materials, technical assistance, and resources for aspiring artists of all backgrounds to realize their creative visions. We are a platform committed to supporting artists' fabrication needs and producing engaging public art.
Producing creatively-engaging public art is core to our mission. We dream up and execute public art programs collaboratively with our staff, community partners and resident artists. We believe that public art must go beyond simply installing artwork in public spaces. We produce public art rooted in artistic activation, community engagement and education. Two ongoing programs, the
Free Film project
and the
Plywood Protection Project
, represent the core of our public art programming.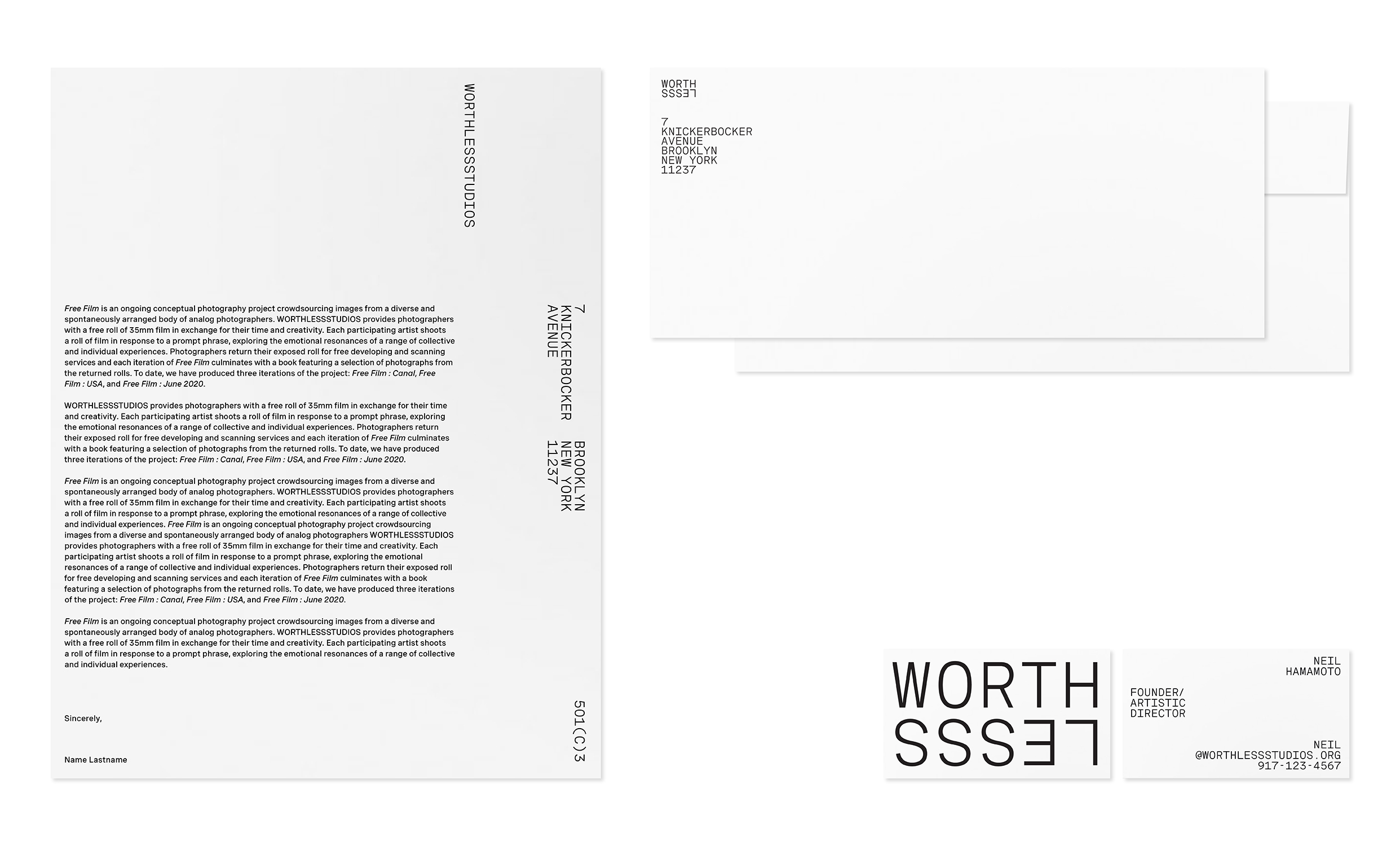 --

Early explorations of logo or branding flexibility:
------------------------------------------------------------